DIGITAL BATTERY CHARGER RECHARGES NiMH/ NiCD BATTERIES
Earn
8
Points with this purchase
Or Apply for
ALL IN ONE
NiMH / NiCD DIGITAL BATTERY CHARGER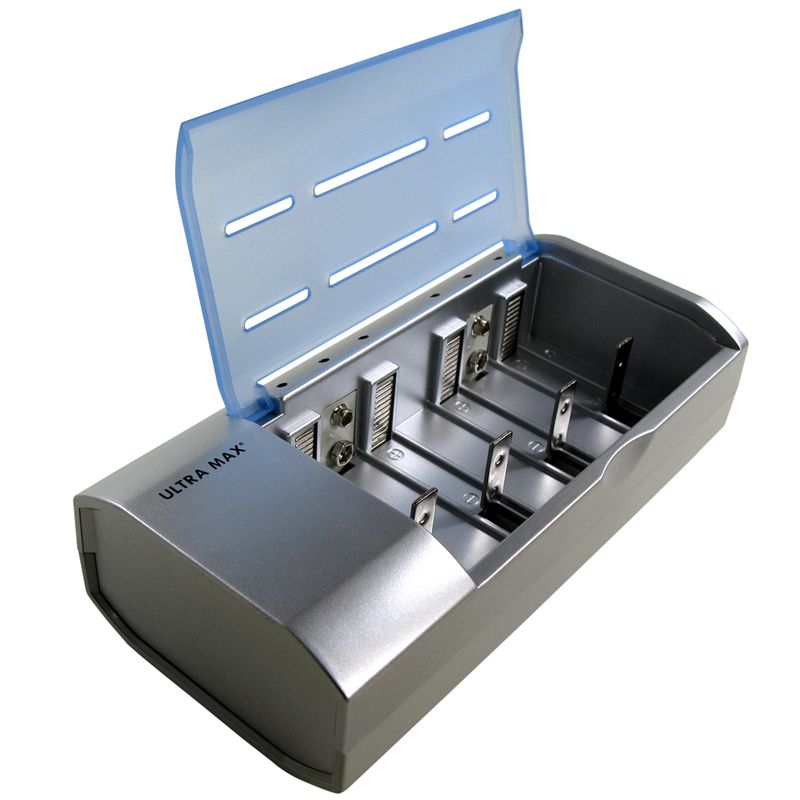 RECHARGES 1 TO 4 PCS AA/ AAA/C/D Ni-MH OR Ni-Cad RECHARGEABLE BATTERIES AND 1 TO 2 PCS 9V Ni-MH OR NiCad RECHARGEABLE BATTERIES AT A TIME
SAVES YOU MONEY
ECOLOGICALLY AND ECONOMICALLY BENEFICIAL
ENVIRONMENTALLY FRIENDLY
SUPPLIED WITH EXTERNAL POWER CABLE FITTED WITH 3 PIN UK MAINS PLUG
The All in One Digital Battery Charger is supplied with an external 3 pin UK mains adaptor power cable and has a total of six individual charging channels, which includes four 1.2V channels and two 9V channels, each with its own individual charging indicator. It has a linear transformer built-in. This charger will charge one to four pieces of AA/AAA/C/D Ni-MH or Ni-Cad rechargeable batteries and will also charge one to two pieces of 9V Ni-MH or Ni-Cad rechargeable batteries. Please note that batteries of different sizes or capacities cannot be charged together.
Charging indicators:
RED LED fast flash indicates abnormal functioning.

RED LED slow flash indicates charging is in progress.

RED LED constant flashing indicates battery is fully charged and this channel will now trickle charge the battery. It is recommended to remove the battery from the charger after charging is complete. Do not leave the battery connected to the charger or plate for a prolonged period.
It is recommended that you read the instructions carefully before using this product.
Environmentally friendly.
Brand New and Boxed.
Specifications:
INPUT: 240V AC, 50Hz, 5W.
OUTPUT:
AAA/AA/C/D: 150mA.

9V: 25mA.
* Approximate dimensions of unit: W 195mm x D 95mm x H 50mm (W 7.5 x D 3.75 x H 2 inches).
* Approximate weight of unit: 360g (not including batteries and power cable). Power cable weighs approximately 88g separately.
* Approximate length of power cable: 110cms / 43 inches.
* Suitable for: Digital cameras, PDAs, Pagers, Flashlights, Remote controlled toys.
* CE marked.
* RoHS compliant.
* Economical, Saves you money.